Testimonials
I have been a patient of Dr. John for the past 12 years and have had numerous surgeries with him, I would not be comfortable with any other doctor. He has always shown dedication, compassion, and surgery skills that no one has been able to match. In the operating room, he makes you feel at ease, which is so very important. Dr. John explains everything thoroughly, in great detail, pre-operation, as well as post-operation. I also never have known to have a doctor call you personally after the operation to follow up, as Dr. has.
His attention to patient safety during every procedure is unmatched. I have recommended him to numerous friends, who have been very happy with their results. Dr. John is very honest and trustworthy, I have the utmost confidence in his surgical ability and skill.
-Tobina Kahn,
Patient of the past 12 years
I underwent the waterlipo procedure with the body jet in Jan 2010. I always felt insecure about the size of my arms. I've wanted, for years now, to have slender, toned, more feminine arms. I tried the tradtional ways of slimming arms; running, resistance training/toning, and of course, dieting. I did build muscle tone in my arms, but it was hidden under layers of fat, so it seemed to simply add more bulk. Dr. Joffrey performed the waterlipo procedure on me. I saw instant slimming effects of this procedure directly following, even through the mild swelling that comes along with it. Now 4 months later, I am wearing tank tops, baby tees, halters, and tube dresses! This is something I had given up on years ago. I feel renewed, sexier, and more feminine. I highly recommend the water lipo procedure to anyone who ever felt like I did. I am extremely happy with my results!
-Measha
Las Vegas
I have to tell everyone about my great experience with this waterlipo procedure. I had it done by Dr. Joffrey and it was UNBELIEVABLE. I had a belly but I also had some extra skin from losing a 60 lbs over the last 2 years. I was worried that the loose skin would look even worse with lipo and a couple of plastic surgeons that I met with said that I would need a tummy tuck!!! I'm only 34 years old! I went to Dr. Joffrey after seeing one of their commercials--I love those commercials by the way "muffin top, love handles". I have to say the office was GORGEOUS. It was very old fashioned with hardwood floors and they had Sinatra music in the background--nothing like any doctor's office I've ever seen. The staff was so nice. I love them and Dr. Joffrey is awesome. He told me that the waterlipo would take care of the fat and that he also used a laser (smartlipo?) for all cases where there was extra skin so that I shouldn't worry about that too much. It all sounded a little bit too good to be true but I left the office really trusting them. I had the waterlipo about 6 weeks ago. I can't believe how easy it was! The procedure was done in that same beautiful office without anesthesia, IV's or anything like that. I chit-chatted with Dr. Joffrey the whole time and I DIDN'T FEEL A THING!!! My boyfriend picked me up and I was wondering why the doctor didn't want me to drive home. I was fine. That was 6 weeks ago. My belly looks awesome now. The fat is gone and the skin really did shrink! I couldn't be happier. I'm so glad I didn't get a tummy tuck and end up with a huge scar. I don't care where you live. You have to come see Dr. Joffrey and have waterlipo if you're thinking about lipo at all. I'm VERY HAPPY and you will be too!
-K
Las Vegas
One of the best decisions I have ever made was getting my water lipo procedure done at Lift Laser and Body. Ever since I can remember I have struggled with my saddle bag issue. It was constantly on my mind and always made me uncomfortable in my own skin. Knowing that diet and exercise would NEVER get rid of my problem area, I started considering lipo. The moment I saw Lift Laser and Body commercial, I immediately called to schedule a consultation (which was free:) The moment I walked into the office I was greeted by the very warm staff, which definitely helped put me at ease. Dr. Joffrey made me feel so comfortable and I did not feel rushed with my questions at all. Two weeks later I had my lipo procedure done and I am completely amazed by my fantastic results! As soon as the procedure was done I looked in the mirror and seriously felt like I was looking at my little sisters legs! I am now able to wear my sisters clothes, which I never could have done before. The procedure was very comfortable and I did not have any pain! Words cannot express how grateful I am for Dr. Joffrey. I am extremely happy with results and finally feel comfortable in my own skin! Priceless!
-N.F.
Las Vegas

Dr. Paresi MD

Dr. Joffrey MD

Dr. Gutowski MD
Meet the doctors

Photo gallery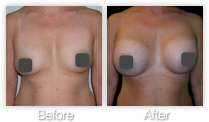 Breast Augmentation Clinic Las Vegas
Your vision...
our expertise.