Procedures
Breast Augmentation

Breast augmentation or Augmentation Mammoplasty is a surgical procedure that enhances women's breast size and/or shape by surgically inserting an implant filled with saline behind the natural breast. Breast Augmentation is a desirable option among women seeking the following: ...

Breast Lift

A breast lift or Mastopexy is a surgical procedure that firms and lifts the breast by removing excess skin and tightening the surrounding tissue. It can also decrease the diameter of the areola that may have enlarged over time. A woman's breast can change considerably over time for a number of reasons such as: ...

Breast Implant Removal

While a surprising number of women opt for an enhanced shape with breast implants, approximately 40,000 of those women will then have breast implant removal surgery for 'a number of reasons. For some it may become medically necessary while others want a larger or smaller implant. The reasons women opt for breast implant removal are: ...

Breast Reduction Surgery

This type of breast surgery decreases the volume of a woman's breast who feel that their breast size is too large, or may be experiencing complications from the heavy weight of her breasts. Good candidates for breast reduction surgery may have one or many of the following symptoms: ...

Breast Fat Transfer

Many of our patients choose to have this fat placed in the breast instead of opting for breast implants. With our new Waterlipo™ technology, which washes fat out instead of crushing, melting or destroying it; the fat is in good enough shape to transfer back into the face or body immediately. Because the fat is living, tt is an excellent, permanent option for people who do not want to get breast implants or only want to just enhance their breasts ...

Dr. Paresi MD

Dr. Joffrey MD

Dr. Gutowski MD
Meet the doctors

Photo gallery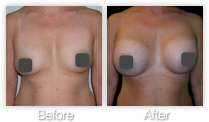 Breast Augmentation Clinic Las Vegas
Your vision...
our expertise.